BabyLove's Snezana and Sam Wood's parenting journey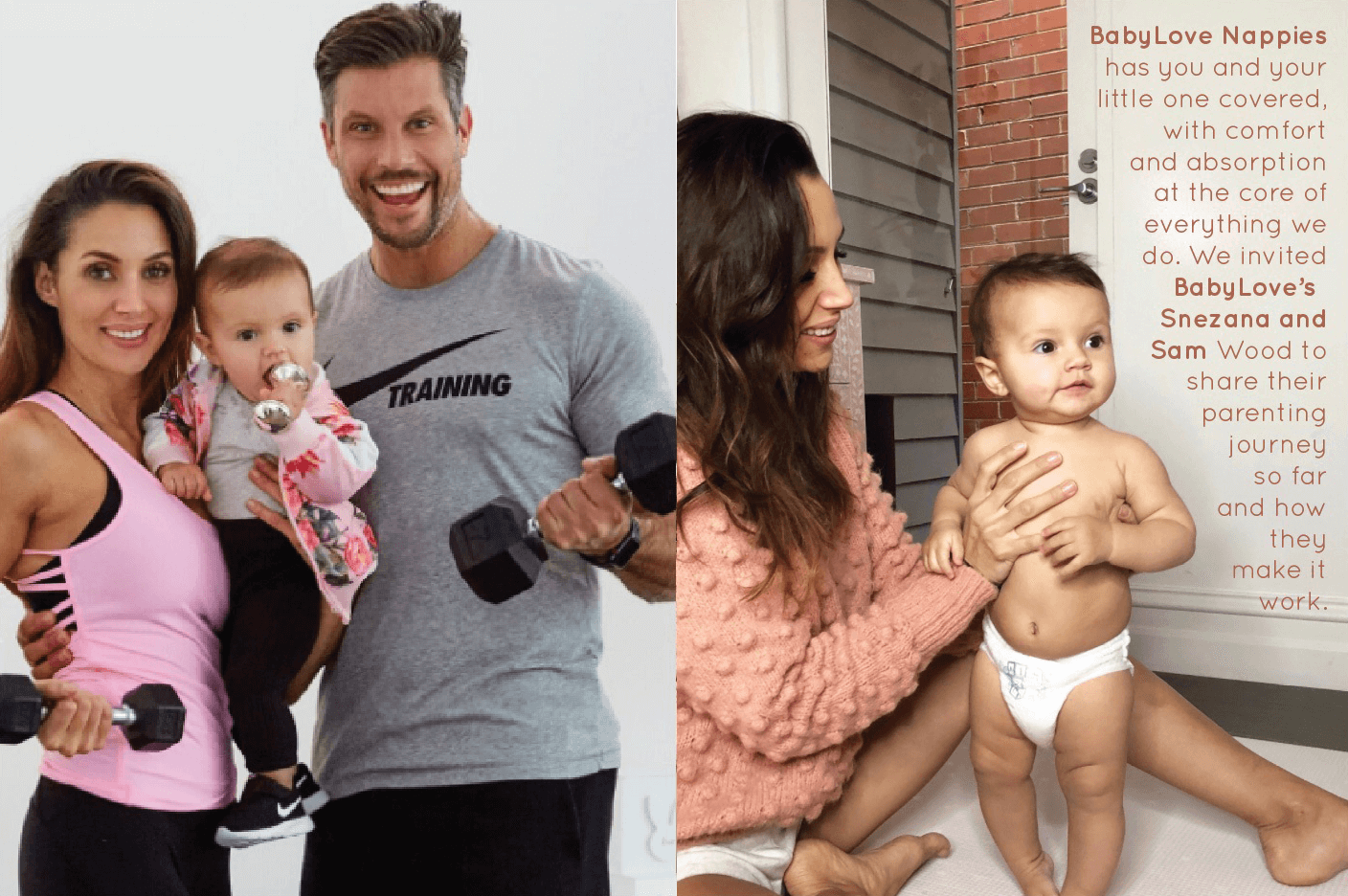 The Fourth Trimester – Bringing Willow Home
Your baby, Willow, is now 8 months old – tell us about your 'fourth trimester' and what it was like those first few months at home?(share the good/bad/ugly – humour)
It felt like it was meant to be, it felt like our little family was complete. Since the Bachelor, Snez and Eve moving to the other side of the country, the crazy growth of 28 by Sam Wood, engagements, pregnancy and everything in between it has been the craziest roller coaster of our lives. When little Willow came along and we settled back at home it just felt so right. Snez is the most incredible Mum I've ever seen, Eve has always wanted to be a big sister and I am seriously so besotted I can't event put it into words.
Of course it was also madness. No sleep, learning on the go and all of that stuff but I really don't think you can prepare yourself. You just need to embrace it all and accept that the greatest thing that will ever happen to you is not all going to be smooth sailing.
Romance
Sam you wooed Snez with a lot of romance and champagne on The Bachelor, how has your relationship changed since Willow's arrival? What do you both try to include in the weekly schedule to keep the romance alive!?
To be honest, this is the area we need to work on the most.
8 months has gone by so fast it is scary but Snez and I have recently spoken about making time for each other and not being too home bound. The toughest part has been no family support in Melbourne. Snez' parents are incredible with the girls but they are in Perth and my family is in Tassie so it makes it tough. Willow being 8 months and not solely breast feeding now means we can slowly start to have some US time and that is going to start with date night once a fortnight.
Roles and Responsibilities
As parents, do you prefer defined roles/responsibilities or just take it day to day?
Outside of breastfeeding we don't really define our roles. Snez is definitely home more and does much more of the heavy lifting but I definitely want to be a hands on Dad with both Eve and Willow and try and get as involved as I can. Bath time is without doubt the highlight of the day.
Exercise/Fun
Snezana you make it look so easy to maintain exercise and balance with baby in tow – share with us the biggest challenges that face you with trying to maintain your persona and being a fun mum with Willow and Eve.
Haha, I always laugh when I hear this. It's far from easy. Willow is so beautiful but she's cheeky and a little clingy like a little Koala. She is also trying to sleep in our bed at the moment and we have to be a bit careful there. That balanced with Eve who is 13 going on 23 and has just started high school, work at 28 and a few other projects I am part of, it is a real juggle.
The hardest challenge has been driving. Willow decided early on that she really doesn't like the car in the rear facing car seat so more often than not, Sam drives us around both in the back like an Uber.
Tips for new parents
Finally, for our new parents – what advice would you give to others to prepare for baby's arrival and the fourth trimester?
Go at your own pace. It sounds so simple but not worrying about what other people think or say has been key for me. I am a Mum because I love it and I think it's the best job in the world and I think every bond that a Mum has with her child is so different that you just need to work out what is right for you.