'Best Ever' Chicken Sandwiches Food for Baby Shower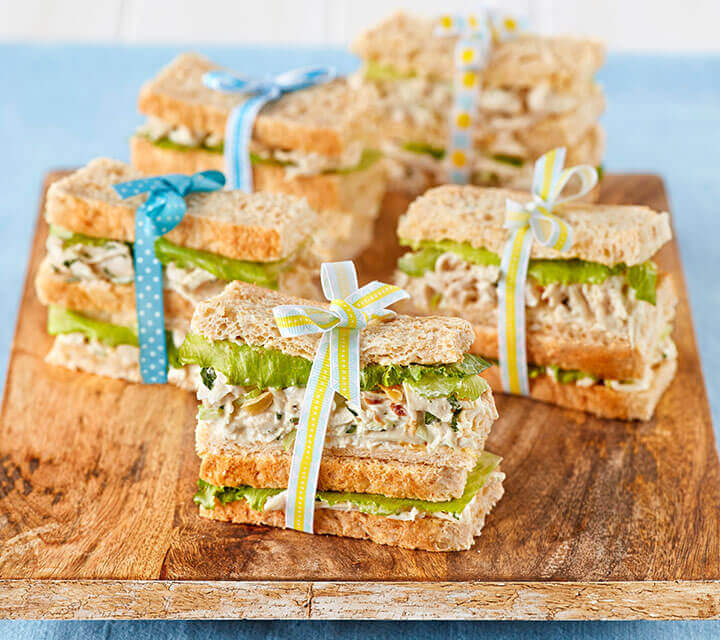 (makes 8 chicken sandwiches)
Not just your average sandwich, but a culinary delight! These easy-to-make crowd-pleasers can be made from the freshest ingredients at very affordable prices.
4 large free range chicken breast fillets, trimmed
50g flaked almonds or roughly chopped macadamia nuts, lightly toasted
2 sticks celery, very thinly sliced
3 spring onions, ends trimmed and very thinly sliced
½ bunch coriander or parsley, finely chopped
finely grated rind 1 lemon
1 tsp French mustard
sea salt flakes and freshly ground black pepper
2 cups good quality mayonnaise or a combination of sour cream and Greek style natural yoghurt
16 slices of brown, wholemeal or white bread, with crusts trimmed and discarded
butter for spreading
soft lettuce leaves or baby rocket (optional)
To cook the chicken, poach it gently by placing the breasts into a large deep frying pan and cover with cold water. Bring the water to a gentle simmer and cook gently for 8 minutes or until chicken is cooked through. Remove the chicken from the liquid and allow the breasts to completely cool. Shred the chicken into long thin tender strips.
Combine the shredded chicken, with the toasted almonds, sliced celery, sliced spring onion, chopped herbs, lemon rind, mustard, and salt and pepper with the mayonnaise / yoghurt mixture.
Butter the bread and spread evenly with the delicious chicken filling, spreading it out so it's even. Top with lettuce.
Sandwich the bread together and cut each sandwich into three 'fingers'. Use a serrated knife for this job as it don't crush the sandwich. Tie the fingers into bundles with pretty ribbon.
Make sure those delicious fillings don't escape and tie a ribbon around each sandwich. Now, that's something we haven't seen before!